The long awaited movie Zootopia arrived in cinemas this weekend. For months, my girls had been wild about seeing it and were so excited that opening weekend we were all going together as a family as well as with a few of our readers. Not only were we getting to see the movie, but we were also getting to try a whole new (to us) cinema experience at the AMC Willowbrook 24, with AMCPrime and Dolby Cinema.
Disclosure: Thank you to AMC Cinemas, AMCPrime and Dolby Cinema for providing our giveaway opportunity and seats to the opening weekend showing of Zootopia. All other expenses incurred were our own. All opinions expressed are 100% my own and my family's. This post contains affiliate links.
Zootopia
Zootopia
is brought to us by the creators of Frozen and Big Hero 6, and since those are HUGE favorites with my family we were really excited to see this movie too. I'm giving it away right from the beginning, because the girls have already asked if we can own it on Blu-ray/DVD once it comes out. So I think that tells you how good my children thought it was.
It's the story of Judy Hopps, one smart bunny with over 200 brothers and sisters, who are happy to stay in their little burrow and help run the family farm. But she dreams of heading to the big city and being a police officer. She wants to make good things happen and make a difference. What she doesn't realize is that not everyone in the world thinks that girls, and especially a girl bunny is capable of being an officer. But there is one thing that everyone who encounters Judy quickly learns about her. She just doesn't give up.
While in Zootopia, with what is considered the lowliest job of all on the force, (meter maid) Judy encounters Nick Wilde. There's not doubt about it Nick is one sly fox and he's got a good game going on. Judy not only uncovers what he is up to, but she also uncovers a really amazing spirit, brilliant mind and a whole new person as Nick and Judy embark upon an adventure to solve the mystery of a missing Otter. She learns along the way, to not let the fox's fangs fool you. There's a lot more to him than there appears to be. But that's not the only lesson to be learned.
Favorite Scenes from Zootopia
I really hate to give away too much, because honestly there is a really fun mystery to be solved. In the movie the girls and I were whispering to each other to try to figure it out and we were pretty close – but not sure until the very end we were sure. So instead I'm just going to share some of our favorite scenes.
The week before we saw the movie, my oldest went to get her license. This was a long, drawn out process (over 5 hours) which ended in no license because she still required one more document. She waited 5 hours to hear that information. Then just days before the movie we went again. She now has her license but I admit that when Nick and Judy head to the DMV where they encounter a long line,  I couldn't help but think about our visits there. One difference, the Sloths who were the customer service reps actually had a sense of humor in the movie.  You may just fall in love with "Flash's" smile. And, don't miss out on the surprise at the end!
Mr. Big. Oh! All the things I want to say about Mr. Big. But then again, I don't want to give too much away.  Just picture The Godfather – as an animated character. He definitely loves his daughter and once you are part of the "family" you are in it forever.  One note, say something nice to someone whenever you can. You never know when it may make you a friend, make someone's day – or even save you from being "iced."
Last but not least, I'll never look at the Museum of Natural Science exhibit on animals ever the same again.
Lessons Learned
We go to movie to relax, to escape and to enjoy. But we also go to movies to learn, to imagine and to experience a world which may be different from our own.  Zootopia addresses so many different real life situations and problems, but in a light hearted way, but also ones which everyone can identify with. My daughter's recognized the bully. We all recognized the kind and heartfelt ways to be supportive as a family. After the movie we also discussed how so many stereotypical myths were addressed in the movie. Just because you have fangs doesn't mean you are a predator. Just because you have "biology" making you certain way is not the sum of who you are. There were so many life lessons which each of us can take away, and also later talk about as a family.
Is Zootopia for everyone? I think so, adults and children alike. There were plenty of one liners and jokes that only the adults would "get," as well as topics that we as parents can relate to. There were also plenty of topics that children can relate to, like bullying, stereotyping and learning some really important life lessons. Don't worry, while the topics themselves were deep, the content wasn't and it made learning and thinking happen in a whole new and entertaining way.
There are one or two scenes (let's remember these are animals and they can go "savage") that were startling to my 9 year old.  If you have a child that may be a little on the sensory sensitive side or possibly scared by unexpected drama I would take them to the regular showings and avoid the 3D. But the 3D experience is amazing, especially during the train scenes which pass through each of the areas of Zootopia , including my favorite, The Rainforest.
The AMCPrime/Dolby Cinema Experience
Comfortable recliners which "react" to the action of the movie is just one of the fun features of AMC Prime seating. The seats are comfortable, wider and really bring you into the movie as they reaction to the action and adventure. Dolby Cinema brings a whole new level of sound and sight during the movie. And, what's a movie without a little indulgence. The Kids Pack is our favorite as we can also choose healthy options like popcorn (without salt but I admit to getting light butter), fruit snacks and water bottles. Mom's indulgence – I admit to a Rainbow ICEE because I just couldn't decide on the flavors.
Dolby Cinema AMC Prime locations across the country!
Arizona AMC Desert Ridge 18
Georgia AMC North Point Mall 12
Illinois AMC Hawthorn 12
New Jersey AMC Garden State 16
Northern California AMC NewPark 12
Southern California
Texas
In theaters NOW! Pick up your tickets online and go enjoy Zootopia with the family and friends.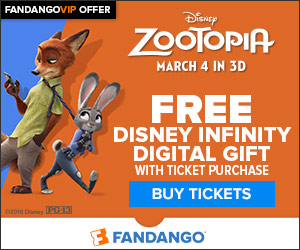 Stay tuned. Up next we have a great interview with Lance Summers, an artist with Disney Studios. You will see his name on the credits as "Environments." He gives us the behind the scenes scoop, some fun "Easter Eggs" hidden in the movie and advice to parents and children who want to be artist/animators and who knows maybe even work for Disney when they grow up.
Related content:
Lance Summers interview: Inside scoop on Zootopia art and animation #ZooU
How to Draw Judy Hopps and Flash from Zootopia
Related Posts :