I admit that I'm more Star Trek than Star Wars. Okay more than more, but my Star Wars loving friend was determined to see Star Wars Rogue One on opening night and I was going with her. But Lisa you don't have to go you are probably thinking. Oh yes, yes I do. She already bought my ticket. Did I like it? No, I LOVED Star Wars: Rogue One. Now that it's available on DVD, Blu-Ray and Digital HD I couldn't wait to show it to my family.
This post contains affiliate links. This means I may make a small commission (at no cost to you) in the event you make a purchase.
Now available on DVD, Blu-Ray and Digital HD Rogue One: A Star Wars Story gives the background BEFORE the Star Wars you may know and love. Haven't you ever wondered how the Death Star came into being? What started the Rebellion? Get those answers and more. While you may be able to recognize many "look backs" at the original Star Wars, what I liked best was that I didn't have to explain anything to anyone before or while they were watching the movie. That doesn't happen in many series.
I'll be honest. My children did not have the same enthusiasm for this movie that I did. However, it was still enjoyed – just a little bit more by me than by them.
However, it was a GREAT first story. You don't have to know anything about Star Wars to be able to enjoy this one. The fight scenes, special effects, blending with the other movies in the series while remaining a stand alone were absolutely phenomenal. I'm not saying much more because no spoilers is exactly what made the movie more enjoyable as well as surprising to my not so Star Wars loving children. Don't miss out an the special features – here's why.
Special Features:
K2SO: The Droi
Baze & Chirrut: Guardians of the Whill
Bodhi & Saw: The Pilot & the Revolutionar
The Empire|Visions of Hope: The Look of ROGUE ONE
The Princess & the Governor
Epilogue: The Story Continues
Rogue Connections
I admit that the favorite character with my family was K2SO. His sarcasm and humor made me laugh out loud , several times! The girls also mentioned that he helped lighten the story from all the fighting and darkness. Don't miss on on  The Droid bonus feature on the Blu-ray and highlights everything from K2SO's design to how Alan Tudky brought him to life on set.
This weekend is the perfect weekend to have a STAR WARS ROGUE ONE viewing night!  Geeks Who Eat  have come up with this set of super BRILLIANT recipes to serve as you enjoy the latest chapter in the saga of the STAR WARS universe!  Give 'em a try and share your results with us on Facebook  Would love to see your take! Have a great weekend and May the Force Be With You!
Now that you have your snacks be sure to print out these printables. Family movie night is ON!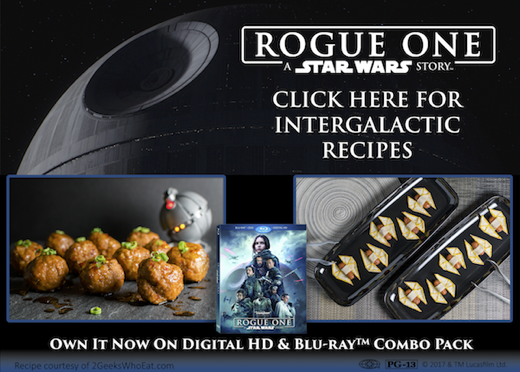 Continue the family fun this movie night with free printable activities which are out of this world!

Related Posts :