Whether your are finishing out your summer or getting ready for back to school, now is a great time to add PROcure to your medicine cabinet at home and first aid kit for on the go.  For us volleyball tryouts are just around the corner, because school starts early here.  I know that with my daughter's athletics there are times that she may come encounter some bumps and bruises along the way. PROcure is an easy to apply topical gel which provides easing of the pain using the homeopathic anti-inflammatory Arnica Montana.  Arnica also antibacterial properties and has been recommended by plastic surgeons and athletes to minimize bruises and swelling. With volleyball, basketball and soccer on this years schedule I'm sure that we will encounter more than a few bumps and bruises on a variety of body parts. Right now we can save $2.00 off any one PROcure product with this printable coupon! Take the coupon to Walmart with you and pick up all those back to school supplies that are on the list and this for the aches and pains which aren't.
PROcure also uses MSM Nutrient, which is naturally occurring sulfur compound necessary for tissue health. It has been proven to relieve pain, reduce swelling and aid natural healing. I look forward to helping her feel better fast, whether it's a quick visit during half time or once she gets home from a game. (Best if used immediately after injury).
If you can wait a little bit to do your back to school shopping you can save even more on PROcure. Check your VALPAK envelopes for yet even more savings and use them both at Walmart!
There's another good reason to check out PROcure right now! There's a giveaway!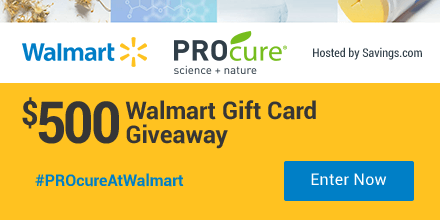 Giveaway Details 
Giveaway dates: Wednesday, August 2nd at 12:00 AM ET to Tuesday, August 8th at 11:59 PM ET.
Ten (10) winners will receive a $50 Walmart gift card.
The winners will be chosen through a lottery drawing and notified on Wednesday (8/9) via the email address they used to enter.
See complete Official Rules for entry instructions, full prize descriptions, restrictions and other important details.
How to Enter
Enter the giveaway by heading to the Walmart page on Savings.com and submitting their email address on the form at the top of the page.
Disclosure/Disclaimer: This is not to be construed as medical advice. Please consult a physician before using any medications and in the event of injury. This post contains affiliate links.
Related Posts :