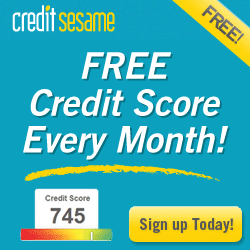 Does your credit score and personal credit record concern you? They worry many, and for good reason. A low credit score can lead to low favorability with lenders, high interest rates and, if the score is exceptionally low, can completely block a consumer from obtaining even the simplest credit, such as a credit card. But there is a way to clean up one's credit and keep it looking its best. The service is Credit Sesame and it is ready to help consumers improve their credit rating for the best possible financial options.
What is the Credit Sesame?
Credit Sesame is a full- service credit operation that calculates consumer credit scores, monitors credit activity, and even advises consumers on the best loan and other financing opportunities. Credit Sesame watches its customers' credit activity and delivers alerts when something changes for the safest, most optimized level of protection.
What Can I Get with this Service?
Credit Sesame offers basic services such as credit scoring, real- time monitoring, debt management tools, mobile applications, and more. The service strives to improve credit ratings, thereby opening the door to the best financing rates available.
What About Fees?
Credit Sesame offers credit scores and other services free of charge. Sign up carries no hidden charges and Credit Sesame will not ask for your credit card number. You just enter a few basic pieces of information about yourself then wait for a response. It often takes less than two minutes to deliver your credit score to your e-mail inbox. Credit Sesame will continue to update members once per month on their individual credit scores so that consumers can spot trends and take care of small issues before they become serious problems.
Your Next Move
With the basic services offered free of charge and no need to enter a credit card number, there really is nothing to lose with Credit Sesame except your financial future. Logon to Credit Sesame today, and take the first step toward stronger credit and a financially healthier tomorrow.
Get your Free Credit Score and Win $300 to Shop!
Copyright 2013, Bryan Carey
Blogging with integrity . . . This informational post does contain affiliate links, however the opinions stated are 100% my own and gained through my experience using this service.  
Related Posts :