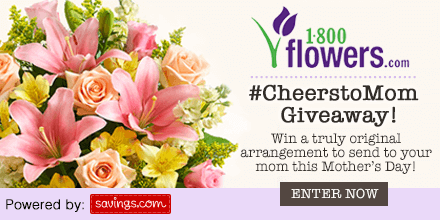 I admit I'm shopping for Mother's Day and one of the first things that come to mind are flowers. My mom lives over 1900 miles away so it's sometimes hard to do shopping for her, but I know one of the things she loves to receive is a fresh, beautiful bouquet of flowers. So it's off to 1-800 Flowers.com I go, since I've ordered from there before and it arrived on time and was beautiful, fresh and long lasting arrangement. Today as I'm shopping there I found out about a fun Cheers to Mom Giveaway, which I'm taking a minute to enter – and to share with you.
Disclosure: This post contains affiliate links which are used to support this site and my family. All opinions expressed are 100% my own. 
Mother's Day Gift Ideas
First, let me show you a few of the things I'm thinking about getting my mom. Or, if Mr. MoneySavingParent happens to read this post he will also have an idea of flowers that I would be thrilled to get delivered!
My mom loves her coffee, so what could be better than her own coffee mug each morning reminding her of what a gift she is to me and her grandchildren. The small box of chocolates with the tulips is perfect – my dad is diabetic so it's just enough for her to enjoy and not enough to tempt him! My parents love to sit together outside on their sun porch and the planters would be a perfect addition. But probably most importantly is the hummingbird feeder. My mom has been looking for months for the perfect one,even shopping for it while we were in Destin, Florida on vacation! I think we have a winner!
So if you are shopping for your mom, remember 1800Flowers.com offers more than just beautiful bouquets, but candy, cookies, tea and other gifts too.
Money Saving Tip: Take 20% Off Orders $49.99+ on Mother's Day Flowers & Gifts, use Promo Code: MTHR49, some exclusions apply. Expires 5/10/15
Giveaway Details:
Tuesday, April 28th at 12:00 AM ET to Friday, May 1st at 11:59 PM ET
Ten (10) winners will receive will receive a large 1-800-Flowers arrangement to be delivered to the address of their choice.
Winners can pick from the following Five (5) arrangements: